Melanie and Gabriel vist Germany - August 2001
Dear Hansa Members,

The summer of 2001 was certainly a memorable one for our dance group. Together with members of the Concordia Enzian Schuhplattler Verein, we traveled to Bayern to see the birthplace of schuhplatting.
The group arrived in Frankfurt on August 18 and met our rental bus and busdriver, Willi. They drove to Rothenburg-ob-der-Tauber to meet me and Gabriel. We had spent a week there for our honeymoon. We then drove down the Romantische Straße stopping in Nördlingen and on to Berchtesgaden near the Austrian border. It was here in the Alps that Martin passed his twentieth birthday. We had a wonderful afternoon floating on the Königsee and hiking in the mountains. For many of us, this was a highlight of the trip.
We spent a day touring Salzburg. Then we headed for Marktoberdorf to meet up with our friends of G.T.E.V. D'Wertachtaler. Our friends in that group had planned many exciting sightseeing tours in the area including a special private tour of Schloss Neuschwanstein that we will never forget! We spent a day in München with our friends and some of us enjoyed tasty Kaffee und Kuchen while others enjoyed a Maß Bier at the Hofbrau Haus. Then we all gathered at the famous Rathaus Glockenspiel at the end of the day.
In Marktoberdorf we were treated to a hearty Bavarian breakfast of Leberkäse, potatos, pretzels and beer by the Bürgermeister. After breakfast we had the priviledge of performing for the Bürgermeister in the foyer of the Rathaus and we were given a special guided tour of the village. That Saturday night, G.T.E.V. D'Wertachtaler hosted a Heimatabend in our honour where we performed and also enjoyed the performances given by their dance group, their musicians and choir. It was an excellent venue for forming lasting bonds with our friends in Marktoberdorf. The next morning, we were invited for a traditional Frühschoppen at the group's farmhouse and later we took in an Alphorn concert where a field full of over two hundred Alphorns played together in harmony. That was an amazing experience.
After saying auf Wiedersehen to our Marktoberdorf friends, our journey continued to Meersburg and on through the Black Forest. Our desire to see the Mosel river brought us to Bernkastel just in time for the local wine festival. After that, we traveled to see our friends from D'Grenzländler SV in Hörstein on the edge of Bavaria just outside Frankfurt. We were introduced to the Bürgermeister of the region of Alzenau. A Heimatabend was held in our honour with many dance groups from the area in attendance. The next day our friends from Hörstein joined us for a tour of Heidelberg and in the evening, invited us to a festival at the small game club in town. We spent our last night in Germany feasting on local fried chicken and dancing schuhplattler late into the night with our friends. We departed Frankfurt on September 2, leaving Martin, Stephanie, Lisa, Alex and Sigi behind to visit a little longer with family.
The dancing didn't stop when we returned home because Oktoberfest season was just getting started. We had a busy fall with performances almost every weekend in September and October and we are now taking a break over the Christmas season.
On behalf of S.T.V. Weiß Blau Bayern, I wish you all a happy and safe holiday season. May you enjoy it in peace with those you love.
Melanie Bunkis Lopez Secretary – S.T.V. Weiß Blau Bayern
Pictures. . .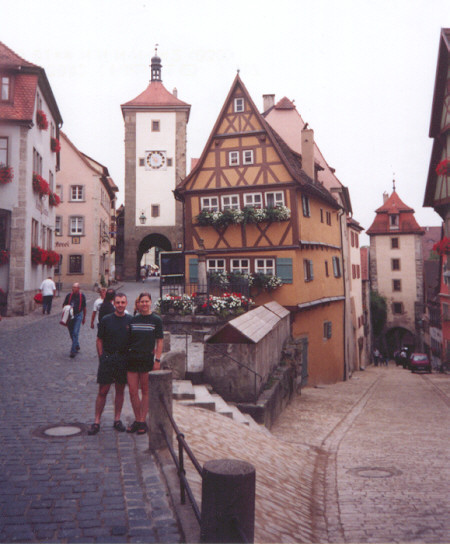 Melanie and Gabriel on their Honeymoon at Plonlein in Rothenburg
.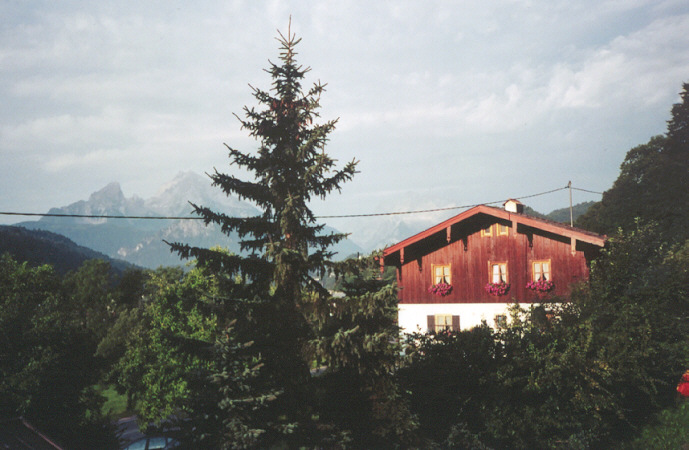 Berchtesgaden - East side of Bavaria on the Austrian border
.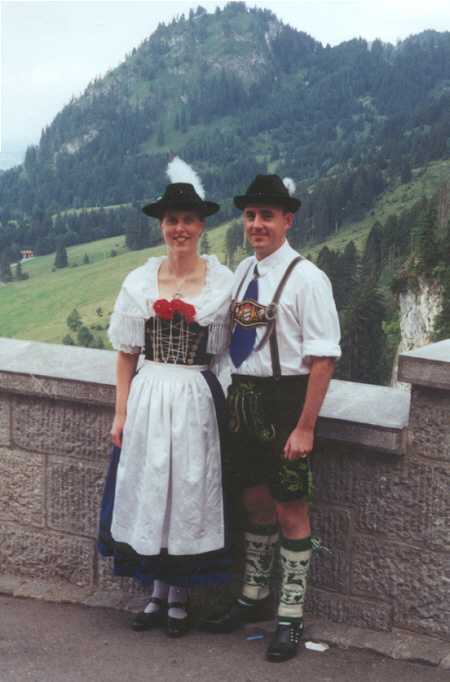 Schloss Neuschwanstein
.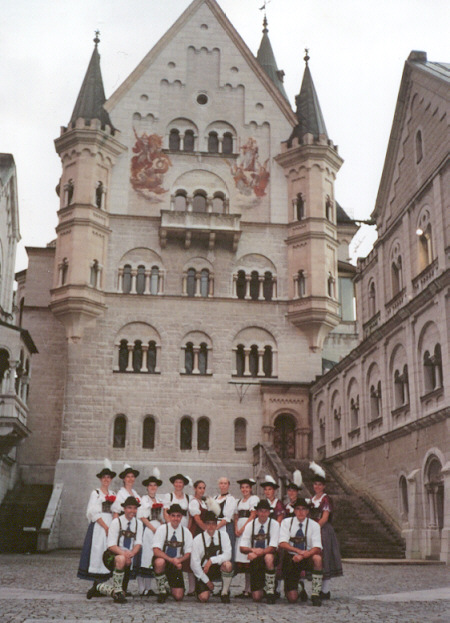 S.T.V. Weiss Blau Bayern photo opportunity after our special tour of Schloss Neuschwanstein
.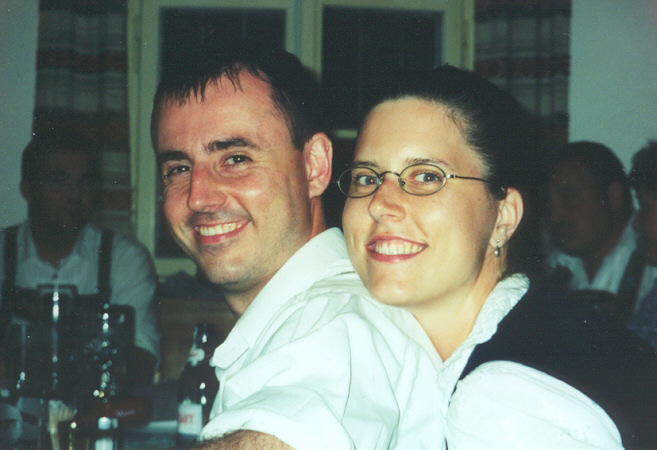 Relaxing at the Sailerbrau in Marktoberdorf
Home